I am so excited for summer this year. After spending all of these months indoors, I can't wait to spend as much time as possible living in the sun. Seriously. I will even take the 100-degree weather, as long as I have a cold drink to cool down.
Summer for me means sunset cocktails on the patio, bossanova music and lots of backyard entertaining. Parties, dinners, bonfires, casual get-together – you name it, I want to do it ALL this summer. 
When it comes to entertaining, my favorite recipe for hosting all of the above is actually a simple summer stable: the Strawberry Lemonade. I am just add a touch of flair. Wink wink.
Follow these easy instructions for a fantastic summer drink:
Strawberry Lemonade with Flair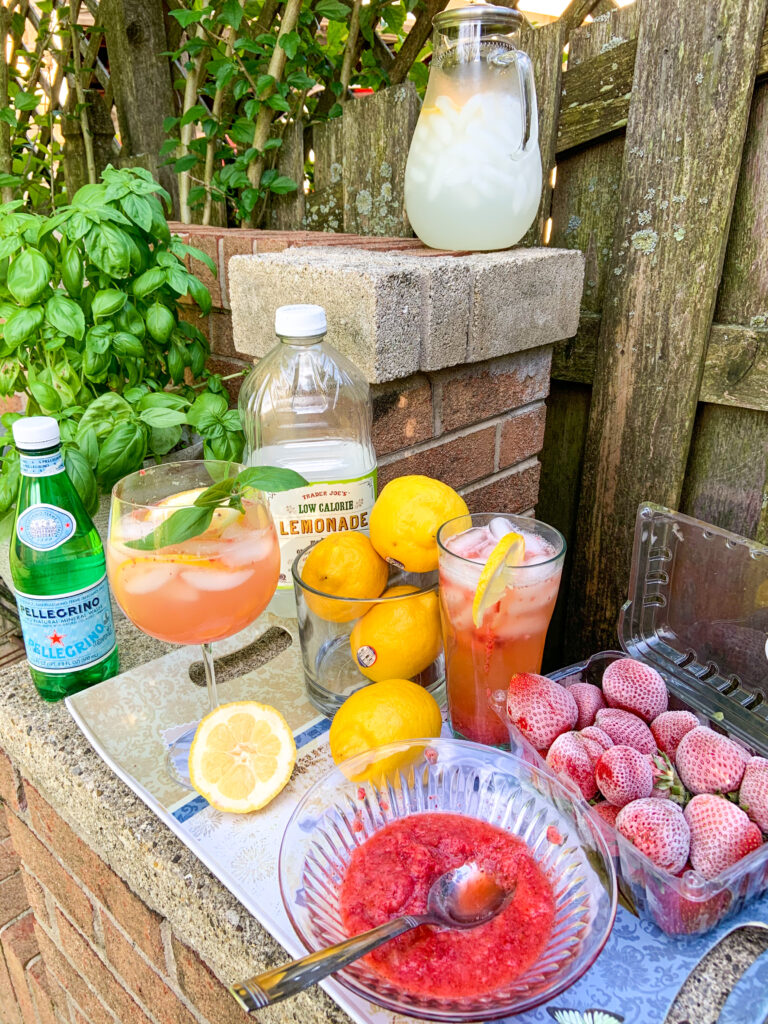 Start with a good base. I usually pick out an organic low sugar lemonade. I opt for Trader Joe's Organic Low calorie Lemonade or Minute Maid zero sugar. My husband likes the original recipe (full sweetness and all), so for his version we buy organic lemonade from Jewel, Honest Original Lemonade, or the original Minute Maid, 
Pick out nice, ripe strawberries. Here I also opt for the organic ones because they are juicer and more flavorful. Throw them in the freezer for 30 minutes so they get a little firmer, then blend them (couple pulses only) for a chunkier purée.
Fill a Collins glass with 1 cup of ice. Looks even nicer if you use crushed ice.
Fill the glass 3/4 with the lemonade. 
Add a splash of sparkling water (and watch magic happen). 
Stir in a spoonful of the strawberry puree. 
Garnish with lemon and basil. et voilà!
Boozy version:  substitute sparkling water with champagne! 
Make sure to tag me (@nenewithlair) when you make the strawberry lemonade so I can share! 
For the TLDR version, here is everything you need to know in an IGTV video.